Why?
1. Stop waste dump costs!
Our scrap chopper will reduce the volume of unwanted packaging bandings, which can be dumped in a large (full truck) waste container, to only two former 210 litres' oil barrels.
Each time container services come and collect a full container at your workplace, your company profits are affected.  An ever-growing problem, since waste recycling will become a very important cost-determining factor in trade and industry in the future.  In the past, you could earn something from those waste steal bandings, nowadays you are already relieved that they are still willing to collect that waste and very soon you will be paying for collecting that kind of waste. That is what happened to paper and cardboard too in the past.
Plastic and steal will doubtlessly be next under the pressure of environmental law.  Waste dump costs for removing 3 waste containers of mixed waste may sometimes equal the costs of purchasing a waste banding scrap chopper. So this investment doesn't need a second thought.  It pays itself back in no time at all and on top of that you help saving and maintaining environment.
2. Increase production space
Cost price for industrial land has been an important factor in the structure of costs of a company balance sheet for years.  And it doesn't look like prices for land will become cheaper.  So it is important that each square meter of paved land will be used as profitably as possible.
No matter how expensive industrial land is, nobody can afford to buy such land just to collect and stock worthless rubbish.
Get rid of those large containers and rubbish in old oil barrels.  In the meantime, you can stock valuable products on those liberated square meters.
3. Quality improvement through better housekeeping

A clean work floor mostly indicates a healthy and flourishing business.  That is your best publicity when your client is visiting you. New clients will more readily go into business with you when your company looks clean, neat and well organised.
Your fork-lift truck will no longer have to stop because the driver has to clean packaging bandings out of the way first, no longer flat tires because your fork-lift truck drove over a piece of lost steel banding.
Small tools will no longer get lost under the heap of packaging waste.
4. Reduce absenteeism – increase safety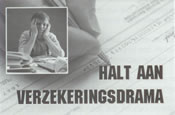 Every one has an interest in reducing risks on injuries during work.  Common sense tells us that less obstacles on the work floor results in less absenteeism due to occupational injury. Particularly steel banding is a dangerous object to be lying about on the workshop.  Putting steel banding into a waste container also involves the risk of injuries.
Our scrap choppers chop the waste banding material neatly into small sticks of approximately 8 cm and at the bottom they fall into an old oil barrel or any other kind of container.  This is the most save way to get rid of annoying waste.
5. Turn your waste into money

Recycling material traders are more interested in waste that is not polluted and ready for use.
Particularly old-iron traders use to turn up their nose when they have to come and collect steel bandings that are lying in loose heaps.
Mostly you are already pleased when you don't have to pay when the old-iron trader comes and collects your heap of steel banding.  But when the banding has been neatly cut into pieces and the old-iron trader just has to pick up a barrel, a whole new world opens.
Nowadays, the market price for old iron is lower than it has ever been.  Nevertheless you can get double of what you would normally get for good old iron (that is not the worthless heap of rusty waste banding).
All that has to do with the fact that chopped steel banding can be processed immediately in the recycling chain of metal.  Old-iron traders no longer loose time by making your old banding usable and by way of thanks they will give you a little bit of money.